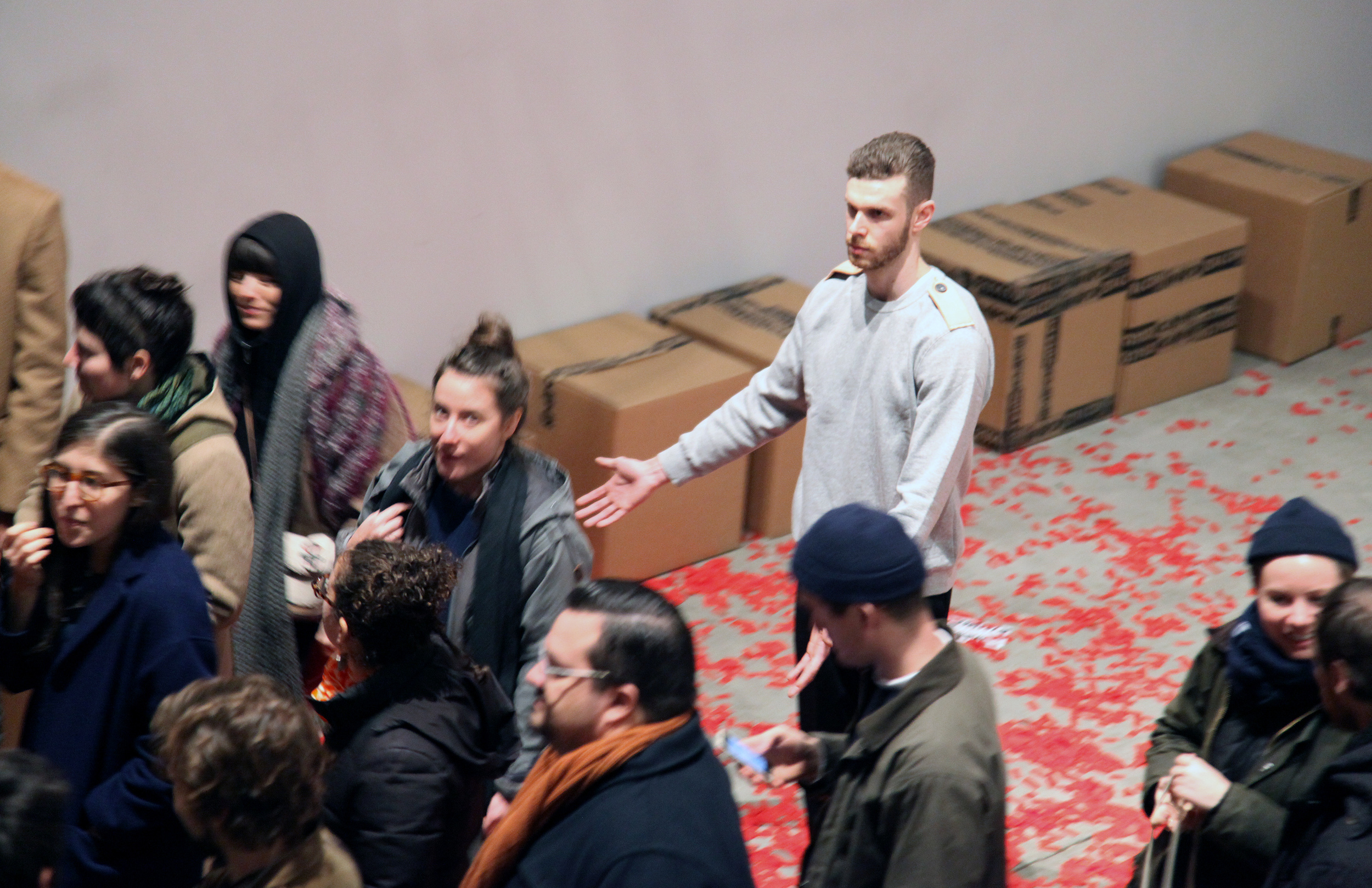 Closing Line
2014
The Metropolitan Museum in the 60's used to close the museum by having security guards use their bodies to push out museum visitors without touch or speech. As the posturing guards emptied out galleries and deemed the spaces secure, the guards gathered on the main staircase of the museum and slowly formed a human chain. They walked together down the grand stairs pushing people out of the space and stood at the door where one guard would announce, "the museum is closed."
I am curious about the political ramifications of this gesture; where bodies direct, control and move other bodies without physical force or verbal direction. In this work I am interested in borders, accessibility and the use of the physical body as a device to create a barrier. It references sociopolitical events, such as protest and gatherings of critical mass, where bodies are controlled and limited by a hierarchy system.
Closing Line uses performers dressed in uniforms to slowly push visitors out of the gallery space. Together they form a human chain in the museum where they rest in silence before ushering attendees out of the space. Then they simultaneously move forward in a sequenced, choreographed line every few minutes that makes the exhibition space smaller and less accessible to viewers inside. The space behind them is left emptied and the space in front of them becomes smaller and more crowded.
Credit: performed in In Practice: Chance Motives. Courtesy Sculpture Center, 2014. Photographer, Megan Mantia. Original score, Thomas Ian Campbell.
Performers, Angela Freiberger, Katie McQueston, Ethan David Wilson Lester, Timothy Hospodar, Moira Williams, Michael Mahalchick, Natalie Galpern, Jessica Karuhanga, Suzan D. Polat, Chris Boiga, Jorge Sanchez, & Brendan Mahoney.